Pricing and Plan Comparison
| | | | |
| --- | --- | --- | --- |
| | Lite | Residential | Plus |
| Download Speed | 128 kbps | 768 kbps | 1.024 mbps |
| Upload Speed | 64 kbps | 128 kbps | 384 kbps |
| Email Accounts | 1 | 5 | 7 |
| Personal Web/Email Storage | 5 MB | 10 MB | 25 MB |
| Monthly Rate | $37.95 | $56.45 | $84.95 |
| Discounted Rate w/full Basic TV Service | $27.95 | $46.45 | $74.95 |
| Modem Rental | $5.00 | $5.00 | $5.00 |
SAVE BIG!! - Sign up for Cablespeed service through Chazlo Technologies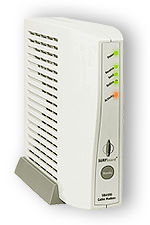 and only pay $19.95 per month for the first 3 months and pay only $19.95 for installation. This is a savings of over $69.95 compared to signing up with Millennium Digital Media directly*!
*MDM charges $49.95 for installation and $39.95 for activation.
Contact us by phone at 517-676-6777 or send email to
sales@chazlo.com for more information.