High Speed Internet Access

| | |
| --- | --- |
| | CableSpeed lets you cruise the net at speeds many times faster than a 56 K telephone dial-up modem. |
| | Thereís no dialing or waiting and best of all, no busy signals. |
| | Talk and surf at the same time. Since CableSpeed is delivered over your cable line, you donít need a second phone line for your computer. |
| | With any CableSpeed subscription you get unlimited usage. |
SAVE BIG!! - Sign up for Cablespeed service through Chazlo Technologies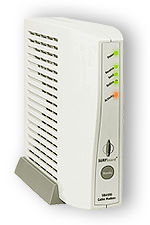 and only pay $19.95 per month for the first 3 months and pay only $19.95 for installation. This is a savings of over $69.95 compared to signing up with Millennium Digital Media directly*!
*MDM charges $49.95 for installation and $39.95 for activation.
Do you have more than one PC in your home? Ask Chazlo about setting up a home network to connect multiple computers to your Cablespeed Service.